One Week Socotra Archipelago Outer Islands Expedition
This is the most unique one-week Socotra Island expedition on offer, truly getting off the beaten path and out to the Socotra Archipelago's outer islands of Abd al Kuri, Samha, and Darsa. These three outer islands are rarely visited by foreign tourists, making it a special experience.
From the beach at Qalansiya, Socotra's second-largest town we will board a boat that will take us out to sea and out to the outer islands.
Scroll down to the end of this page to see all the trip details, including prices and more.
One Week Socotra Outer Islands Expedition Itinerary
One Week Socotra Outer Islands Expedition Day 1
Hadiboh | Detwah Lagoon
In the earlier part of the day, arrive at Socotra Airport where you'll be greeted by your Socotri guide for the week. After passing formalities and collecting baggage you will head into Hadiboh where we will have lunch at a local restaurant.
After lunch we will start our venture to the west of Socotra, reaching Detwah Lagoon in the earlier part of the afternoon. Here you'll have the chance to relax on the beach or explore the lagoon area.
Tonight camp under the stars on beautiful Detwah Lagoon. If you're not too tired head down to the water in the evening and keep an eye out for glowing blue bioluminescence.
Accommodation: Tent camping at Detwah Lagoon
Meals: Lunch, dinner
One Week Socotra Outer Islands Expedition Day 2
Qalansiya | Sabuniya | Abd al Kuri
We'll get an early start at 4 am before packing up and heading to nearby Qalansiya where we will board small fishing boats that will shuttle us to our boat to Socotra's outer islands as the sun rises.
We'll set sail around 6 am and have breakfast on the boat. Keep an eye out as we depart Qalansiya for jumping spinner dolphins who are known to frequent this area.
Within a couple of hours of departure, you should be passing by the rocky islet of Sabuniya, known for its bird life. Beyond Sabuniya you'll be out on the open ocean for several hours so relax, read a book, or spend some time getting to know your guide and fellow travelers a bit better.
In the late afternoon, you'll pass by two more rocky islets known as Kal Firun about 20 kilometers to the north. In about an hour you'll reach the coast of Abd al Kuri where the local coast guard boat will meet your vessel and check your permits before shuttling you to a gorgeous uninhabited beach that will serve as your home for the next two nights.
Note that travel times on the water can vary a bit due to sea conditions, so you can expect this journey to take 8-12 hours on average. If you are prone to seasickness bringing an anti-nausea med like Dramamine is recommended.
Sailing time: 8-12 hours
Accommodation: Tent camping at Abd al Kuri
Meals: Breakfast, lunch, dinner
One Week Socotra Outer Islands Expedition Day 3
Abd al Kuri
After breakfast, a small local truck will come down to the beach to load up the group in the bed and take you on a grand tour of Abd al Kuri's five villages. Not many travelers make the jaunt to Socotra, let alone the outer islands, so expect a warm welcome in each village. In the afternoon we will reach a bay on the western terminus of the island known as Kaysat Naum. Here, you will have lunch and time to relax and swim.
Returning back to camp we will make a stop in the late afternoon for a short hike up to Abd al Kuri's famed endemic: a patch of massive Euphorbia abdalkuri. We should reach camp just before sunset and have dinner right on the beach.
It's not unusual to find bioluminescence here on this beach so this evening make sure to walk down to the water in case they're out.
Accommodation: Tent camping at Abd al Kuri
Meals: Breakfast, lunch, dinner
One Week Socotra Outer Islands Expedition Day 4
Abd al Kuri | Samha
At sunrise we'll bid our goodbyes to Abd al Kuri, getting shuttled once again to our boat. Have breakfast on board and then settle in for the roughly 6 hour journey to the other inhabited Socotra Archipelago outer island of Samha.
On arrival in Samha, we will be shuttled in smaller boats to the one and only village on the island by local fishermen. Don't be surprised if the village's kids come out to welcome you on the beach.
We'll have a quick lunch and then depart on a trek up onto the craggy ridgeline of the island in search of the endemic Begonia samhaensis.
We should arrive back to the village just before sunset, but if we are moving a little slower it may be just after dark so bringing a headlamp or torch would be wise.
Sailing time: 5-7 hours
Accommodation: Tent camping on Samha
Meals: Breakfast, lunch, dinner
One Week Socotra Outer Islands Expedition Day 5
Samha | Darsa| Qalansiya | Detwah
After breakfast we'll get back on board, this time with a small fishing boat in tow toward Darsa. Darsa is an uninhabited island mostly known for its giant bird population and rats who make an appearance at nighttime to get the bird's eggs (and hence why we unfortunately don't camp here). Samha to Darsa should take around two hours.
Darsa appears mostly as a barren rock, but tucked away on the northwest shore is one of the most beautiful beaches in the world. It's here that we will transfer to the fishing boat and get dropped on the beach for a couple of hours to explore the gorgeous beach on Darsa as well as the fascinating caves that back the shoreline.
After spending some time on the beach here, we'll be taken back to our boat where we'll say our goodbyes to the Samha fisherman as they return home and we make our final journey back to the main Socotra Island.
You can expect the trip between Darsa and Qalansiya to take around six hours.
Once back in Qalansiya we will load into 4WDs and head back to Detwah Lagoon for the evening.
Sailing time: 7-8 hours
Accommodation: Tent camping at Detwah
Meals: Breakfast, lunch, dinner
One Week Socotra Outer Islands Expedition Day 6
Detwah Lagoon | Homhil
Today we head across the island, stopping for an early lunch in Hadiboh before we continue up to Homhil Protected Area. In Homhil you will have the afternoon free to explore the area dotted with endemic dragon blood trees, bottle trees, and frankincense. Don't miss the natural infinity pool located a short jaunt downhill from camp.
Accommodation: Tent camping at Homhil
Meals: Breakfast, lunch, dinner
One Week Socotra Outer Islands Expedition Day 7
Homhil | Arher
After an early breakfast we will begin our downhill trek among fascinating plant life and to a village near the coast. We will be met here by our vehicles, making a quick stop at the Socotra Folk Museum en route to our final campsite at Arher Dunes.
Enjoy your final afternoon swimming in the Arabian Sea and catch your last sunset from one of the most gorgeous lookouts on the island- the top of Arher Dune.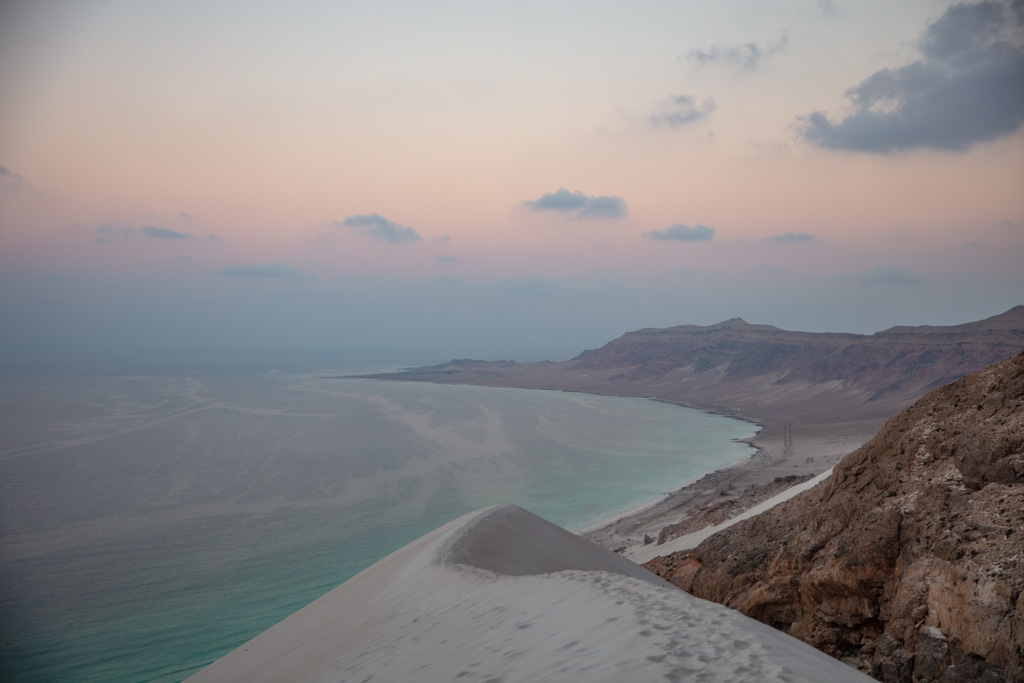 Accommodation: Tent camping at Arher
Meals: Breakfast, lunch, dinner
Departure Day
Arher | Hadiboh Airport
After breakfast, you will be transferred to the Socotra Airport to catch your flight to either Abu Dhabi or Aden/Cairo.
Accommodation: None
Meals: Breakfast
One Week Socotra Outer Islands Expedition Trip Details
Cost: $2,350 per person (minimum of two pax/solo travelers can still book a private trip but costs will be double). Also, note that we will need to have a minimum of 7 pax to guarantee departure of this itinerary at this rate.
Dates: Year-round, but best between October and March
Duration: 8 days | 7 nights
Start/finish: Hadiboh Airport
Deposit: 30% due at time of sign up
Inclusions: Meals as noted on itinerary, camping equipment, Yemeni visa fee ($170), boat charter, 4WD transport, English speaking local guide, entry fees
Exclusions: Airfare to/from Socotra ($950 return from Abu Dhabi, and $1,160 return from Cairo), UAE or Egypt visa fees (if applicable), travel insurance, personal spending, tips for local staff
Ready to sign up for this Socotra Expedition?
Fill out the form below and we'll get started!